---
---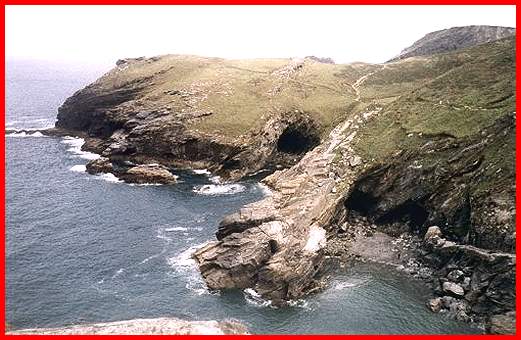 Le grotte che la leggenda collega a mago Merlino

clicca sull'immagine in basso per ingrandirla

---

Dal sito showcaves.com: «...According to the archaeologists, this place was a Roman settlement and military outpost, most likely called Durocornovium. There was some kind of monastic settlement here in the 5th or 6th century, maybe the stronghold of a Celtic king. This would seem entirely possible, as the site would have made an impressive fort and would be almost impenetrable to any enemies attempting to storm the headland. A finding during an 1998 excavation increased the possibility of a connection with King Arthur: a slate of 20 by 30 cm with the inscription ARTOGNOV, the Latin version of the British name Arthnou. Its from the 6th century, which is most likely the time when Arthur lived. This castle fits the legend very well, because of another fact: Merlin's Cave below the castle. Merlin is said to have lived in a cave below the fortress of Tintagel while King Arthur grew up, to be his teacher. In one version of the legend, Arthur was found by Merlin washed ashore in a cave below the castle...».

Dal sito time-scapes.co.uk: «There are two tunnels that run beneath Tintagel Island. The shorter tunnel was definitely made with metal tools; it opens out in the meadow above the cliffs. The larger, known as Merlin's Cave, is washed by the tide. Legend tells that the cave is still walked by Merlin, whose voice can sometimetimes still be heard. In Tennyson's Idylls of the King, most famously, Merlin...».

Dal sito cornwall-online.co.uk: «If you want to give your imagination a treat, take it to Tintagel Castle. Tristan and Isolt, King Mark, Uther Pendragon, Merlin the Magician and King Arthur were all here according to legend - and at Tintagel legends have greater potency than facts, for there are few historical certainties here - most remains a mystery... Though Norman realpolitik put Tintagel on its windy headland, it is as a castle of the imagination that it holds us spellbound - a place of 'magic casements, opening on the foam of perilous seas, in faery lands forlorn.' Was it here that Tristan wooed Isolt? Where Merlin magicked Uther Pendragon into the bed of Igerna, wife of King Gorlois, to father Arthur? And when Arthur became king, did he place his foot in "Arthur's Footprint" as part of ancient inauguration rites? Look around you, as the sea-light dances and the salt-spray flies, and you can...».
---
---